45 Minute Western Group Lesson - Golden Gate Park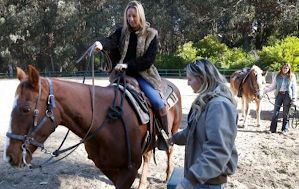 Location: San Francisco, Ca
Product code: PA000D
​​These classes are designed to assist riders in developing a good seat, mastering basic riding commands, controlling speed & improving communication between horse & rider.
We cater to riders of all levels and experience, whether it be your first time in the saddle, or you are a lifelong rider. We recommend children between the ages of 6 and 8 years old start with a 30 minute lesson.
​All beginners must start with Western lessons. Once the riders have a solid understanding of the basic fundamentals they can choose to either remain in the Western discipline, or transition to English.
Attire: Wear close toed shoes and long pants. Equestrian helmets are required for anyone under 18 years old and recommended for 18 years and older.
Arrive 10-15 mins prior to your session . We require 48 hours notice to cancel or reschedule your reservation.